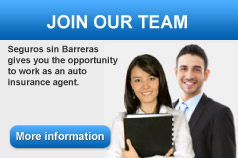 About us
Seguros sin Barreras (SSB) is part of the sin Barreras family, offering a wide array of insurance products and services. We're proud to have over 30 years of experience in serving the Hispanic community.
The SSB representatives are committed to fulfilling our customers' individualized insurance needs. The way we achieve this for our customers is simple: we listen to their concerns, we look for affordable prices, and we provide them with the best in coverage options. Additionally, we've created partnerships with over a dozen insurance companies, which means delivering better variety to better serve both potential clients and loyal consumers.
Our mission at SSB is to ensure that our customers are fully satisfied with our products and services. Our easy-to-understand contracts and clear-cut costs allows us to earn our customers trust by saving them time and money.
From the policy purchase and beyond, we dedicate ourselves to successfully serving you and your family.
The Seguros sin Barreras mission is to make sure that each one of our insured customers is completely satisfied. Our clients save time and money because we don't have any hidden fees or hard to understand contracts. Our prices are always real and clear.
We're also aware that our responsibility does not end with the selling of a policy; that's precisely when our work begins. We want you to be a satisfied customer for many years.